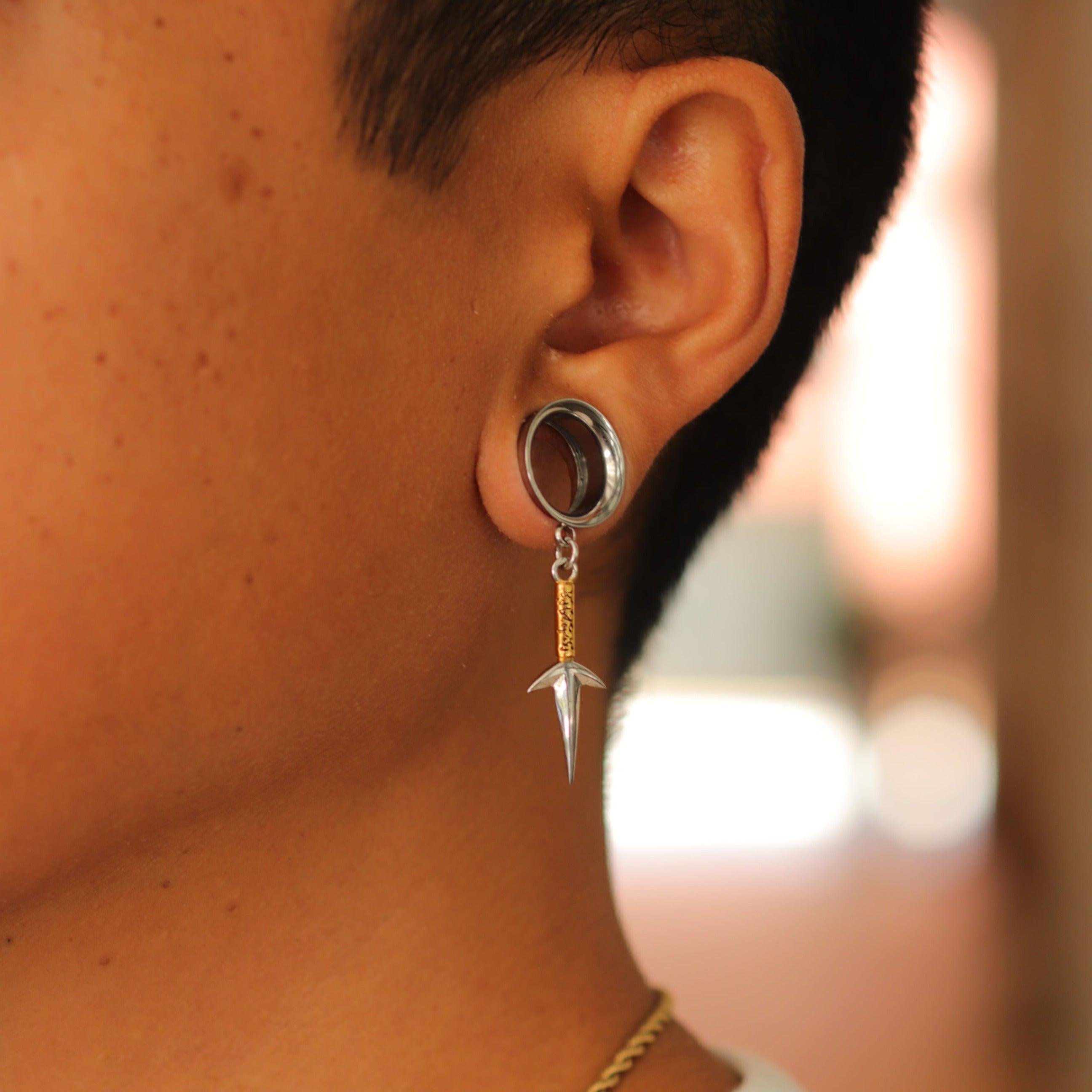 Naruto™ Minato's Kunai Earring
Description

Shipping & Returns
Officially Licensed Naruto© & ™ x ©2002 Masashi Kishimoto / 2007 Shippuden x VIZ Media, LLC
This Naruto Minato Kunai Earring serves as a fantastic tribute to the legendary character Minato Namikaze and the Naruto series as a whole. Whether you're a dedicated fan or simply appreciate the striking aesthetics of the kunai, this earring is an excellent addition to your collection or a thoughtful gift for any Naruto enthusiast.
The Naruto Minato Kunai Earring has a hinged hoop earring (20 GA) and is made from high-grade Stainless Steel. Features a Japanese Kunai knife design and stands 25mm tall & 3mm thick & 10mm wide.

This Officially Licensed Product is available only in UNITED STATES (INCLUDING PUERTO RICO & GUAM), CANADA, AUSTRALIA, NEW ZEALAND & UNITED KINGDOM. 

*Pierced jewelry and earrings are non-returnable items due to hygiene and safety reasons.

Please allow 4-6 days for your order to arrive within The United States. International shipment arrival depends on the Country and method selected. All applicable customs fees, import duties, taxes and any other charges are the responsibility of the customer, even if you refuse any shipments upon delivery.
---
Our Jewelry Includes A Lifetime Warranty*
Naruto™ Minato's Kunai Earring
LIFETIME WARRANTY

Our Lifetime Warranty ensures that in the event your jewelry experiences any damage, fading, or breakage, you are eligible for a one-time replacement of the same product - same size and color. We only ask that you cover the shipping & handling, for $11.99 per claim. This fee helps us ensure a smooth and efficient process for replacing your jewelry.

Rest assured that we will handle your claim with the utmost care and attention. In the rare instance that the specific item you are claiming is no longer available, we offer you the option to exchange your piece for another of equivalent or lesser value. We want to make sure you are satisfied with your replacement and continue to enjoy our jewelry collection.

Your satisfaction and confidence in our products are of utmost importance to us at Mister SFC. We stand behind the quality and craftsmanship of our jewelry, and our Lifetime Warranty is a testament to that commitment.

"Your trust in Mister SFC is sealed with a lifelong bond."
- Mister SFC -



*Please note that our Lifetime Warranty does not extend to items that have been stolen, lost, or misused. Additionally, it does not apply to 14kt jewelry, toys & collectibles, or items on sale. Lifetime Warranty terms and conditions apply.

Please refer to our Warranty Policy for more information - for full terms click here